McMurry 100
The McMurry 100 includes individuals whose impact can be categorized in one or more areas: academic, emotional, financial, leadership, or mission-driven support. These individuals are considered super representatives of groups, including students, faculty, staff, donors, civic leaders, and trustees. The selection process was designed to ensure that honorees represented all 10 decades of McMurry's 100 years.
Honorees
A | B | C | D | E | F | G | H | I | J | K | L | M |
N | O | P | Q | R | S | T | U | V | W | X | Y | Z
A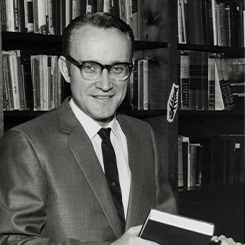 The Rev. Dr. Bert '55 and Patsy '55 Affleck
Dr. Affleck was McMurry Student Government president and later college chaplain from 1961 to 1971. Patsy was student government secretary twice and Reservation Princess.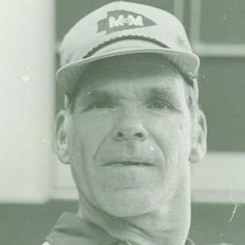 Jimmy Allen '97
Inspirational volunteer football coach from 1971 to the 1990s and member of the Athletic Hall of Fame.
B

Dr. Morris Baker '63
First African American to graduate from McMurry. After working as an administrator for the Peace Corps, he returned to his alma mater as a professor of psychology and taught from 1983 to 1994. Dr. Baker was named a Distinguished Alumni 1987. He currently serves on the McMurry Board of Visitors.

Dr. Clark W. Beasley
Professor of biology for 41 years, from 1969 to 2010, and a Tardigrades scholar. With assistance from other English speakers, Dr. Beasley translated the Tardigrade "bible" (Ramazzotti and Maucci 1983 Il Phylum Tardigrada) from the original Italian and published the English version at McMurry. He was honored with the Outstanding Professor Award, and the Clark W. Beasley Endowment Fund was established in 2012 by Dr. and Mrs. Ralph Turner for summer research biology students.

President Gordon Bennett
First layperson to serve as McMurry president from 1959 to 1970. Dr. Bennett led McMurry through many years of forward growth.

Caroline Couch Blair '30
Dedicated speech faculty member from 1930 to 1936 and 1950 to 1979.

Dr. Virgil E. Bottom
Scholar, faculty leader, and professor of physics from 1958 to 1973. Dr. Bottom mentored many students who went on to exceptional careers. The Dr. Virgil E. Bottom Professorship was established in 2018 by former student Larry Conlee.

Brenda Breeden '00
Breeden managed McMurry's business office from 1971 to 2015. She was active with the United Methodist Women.

Tucker Bridwell
Member of the McMurry Board of Trustees from 1983 to 1999 and chair from 1990 to 1991, Bridwell received an honorary Doctor of Humanities from McMurry in 2017. He is president of the Mansefeldt Investment Corporation and the Dian Graves Owen Foundation. An energy industry executive, his commitment to Abilene's economic development has ignited the city's growth. He serves on the board of First Financial Bankshares. His civic honors include Abilene Outstanding Citizen of the Year, Distinguished Citizen Award by the Boy Scouts of America, and SMU Distinguished Alumnus. He is a major supporter of the University personally and as trustee of the Dian Graves Owen Foundation.

Maurice Brooks
McMurry Board of Trustees secretary from 1959 to 1976.

Dr. Claude Brown '70
McMurry Board of Trustees member who supported the J.W. Hunt Physical Education Center and political symposium initiatives. The first Brown Symposium on Texas politics was held at McMurry in 1967. He opened the matching fund drive for the Hunt PE Center with a gift of $75,000.

Dr. Raymon '52 and Mary Esther '52 Bynum
Devoted donors and supporters of McMurry. Dr. Bynum served as Texas Commissioner of Education, and Mary Esther was an educator for many years. Both named Distinguished Alumni, Dr. Bynum was honored in 1984 and Mary Esther in 2003. She was awarded her maroon Trailblazer jacket in 2018. Four scholarships have been established by Mary Esther, including the Raymon L. Bynum Sr. Endowed Scholarship, Mary Esther Bynum Endowed Scholarship, Jack and Bettie Holden Endowed Scholarship, and Hershel and Georgia Kimbrell Endowed Scholarship.

Raymond T. "Prof' Bynum
"Prof" Bynum was the beloved professor of music and band director from 1946 to 1972, and the band hall was later named in his honor. The scholarship established in memory of Prof Bynum and his wife is named the Raymond T. "Prof" and Mary Catherine Adamson Bynum Endowed Band Scholarship.

C

Bishop Alsie H. Carleton '33
Served as McMurry Student Government president in 1933, and then later as a bishop in the Methodist church from 1968 to 1980. Bishop Carleton was untiring in his efforts to raise money for the building of the United Methodist Campus Center. When it was dedicated in December 1979, the chapel — named the Alsie H. and Artha Blair Carleton Chapel — was a focal point of the new building. The Bishop and Mrs. Alsie Carleton Scholarship was established in the couple's honor in 1983, and he was posthumously named a Distinguished Alumni in 1985.

Maudell "Sue" Carney '49
Served McMurry for more than 40 years in the business office. She was a devoted member of St. Paul United Methodist Church in Abilene. In 2015, the Maudell Sue Carney Business Scholarship was established in her memory by longtime friend Barbara Swagerty.

Arvalee Chappell
Professor of education and dean of women from 1950 to 1974. In addition to her teaching duties, Chappell served as secretary to the president before her appointment as dean in 1951.

Willie Mae Christopher
"Miss Chris" taught English from 1926 to 1957. She established Wah Wahtaysee in 1926, a pep squad for female students that later became a service organization during World War II and remained active until the 1980s. She was honored in 2020 as one of the six founding women of McMurry.

Harold Crawford
Devoted Abilene civic leader, McMurry Board of Trustees member in the 1990s, and donor. In 1973, he was named Abilene's Outstanding Citizen of the Year by the Abilene Chamber of Commerce.

Barbara Crousen
Legendary men's track coach who won 17 conference titles and was the first woman to lead a men's NCAA team in any division to national titles in 2008 and 2012. The McMurry women's team won 10 American Southwest Conference (ASC) championships under Crousen's guidance. Her teams have a total of 10 top-four national finishes. She was named the ASC Men's Coach of the Year all 14 seasons and named the women's ASC Coach of the Year 10 times. Created through individual donor support by friends, colleagues, and former student athletes, the Barbara Crousen Track and Field Endowment was established in 2015.

J.M. Cunningham, Edward S. Hughes, Kirvin Kade "K.K." Legett, and Henry Sayles Jr.
These Abilene civic leaders, Hughes, Kade, and Sayles, came together to donate the 42 acres of land for McMurry's campus. Cunningham made a financial contribution to ensure the college could be established.