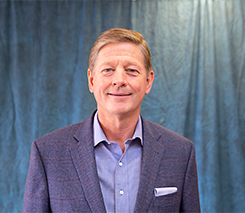 President and CEO, WestStar Bank
El Paso, Texas
Treasurer
Chair, Finance Committee
Board Member: 2018 to present
Civic and Volunteer Activities:
Texas Bankers Association – Board Member and Vice Chairman
Las Palmas Del Sol Healthcare Board – Co-Chairman of the Board
The Borderplex Alliance – First Vice Chairman and Executive Committee
Texas Tech University – Excellence in Banking Program – Advisory Council
Kids Excel El Paso – Past Chair
The Border Industrial Association – Past Member
El Paso Chamber of Commerce – Past Chair
Paso del Norte Health Foundation – Past Chair
El Paso County Hospital District– Past Vice Chair
David W. Osborn '83 is currently the president and CEO of WestStar Bank. WestStar Bank is a $2.7 billion financial institution serving the Borderplex region (El Paso, Texas; Las Cruces, NM; and Northern Mexico). Osborn joined WestStar Bank in 2000.
Prior to joining WestStar, Osborn worked for J.P. Morgan Chase for 10 years, where he served a number of roles including executive vice president, Private Banking and Commercial Lending. He began his banking career in 1983 at State National Bank (El Paso, Texas) as a credit analyst, rising to vice president, Real Estate Lending, before joining J.P. Morgan Chase in 1990.
Osborn was born in Midland and graduated from McMurry University in 1983 with a Bachelor of Business Administration in Management and Marketing. In 1992, he graduated from the Southwestern Graduate School of Banking at Southern Methodist University, where he received the Recognition of Leadership honor.
Osborn is married to Cindy '86 and they live in El Paso, Texas. They have three adult daughters, Courtney, Catherine, and Lindsay, three son-in-laws, Steven, Reese, and Ty, and five grandchildren, Alex, Ben, Ryan, Caroline, and Lucy.