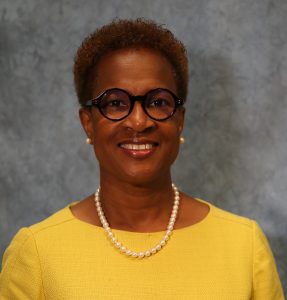 Abilene District Superintendent
Northwest Texas Conference of The United Methodist Church
Abilene, Texas
Board Member: 2021 to present
Originally from Buffalo New York, Rev. Felicia P. Hopkins received her undergraduate degree from Valparaiso University and her Master of Divinity from Austin Presbyterian Theological Seminary. She has spent the last 28 years in various leadership roles in ministry as a senior pastor, chaplain, and director. Currently, she serves as the district superintendent of the Abilene District of the Northwest Texas Conference of the United Methodist Church. Hopkins is also a proud retired army chaplain (Major) having served over 20 years to include a tour overseas in Operation Iraqi Freedom as a trauma chaplain.
Her background includes management experience from corporate America, having worked for the Walmart Distribution Center and Pepsi Cola Company where she specialized in logistic management.
Hopkins has also received numerous awards to include being selected as the El Paso Women of the Year, Abilene Outstanding Women of Achievement, and receiving a Meritorious Service Medal for her service in the Army. But, her most prized honor is that of being a mom to her two sons, Douglas Samuel a graduate of the University of Texas at Dallas and Adam Glen a proud resident of Disability Resources Incorporated and a graduate of Abilene High School.