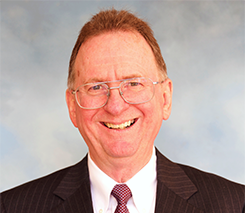 Certified Public Accountant
La Jolla, California
Chair, Campus Oversight Committee
Board Member: 2020 to present
John T. Hendrick '73 has served since April 2016 as CFO of Delta Energy & Communications, Inc. in Murrieta, California. From July 2001 until he joined Delta Energy, Hendrick was primarily engaged in monitoring his private equity investments.
From July 1996 to December 1999 he was vice chairman and CFO of The Cassidy Companies, Inc., one of the largest government affairs and public affairs firms in Washington, DC. He was also a managing director of Galway Partners, LLC, a Washington, DC-based merchant bank from July 1996 to June 2001. Prior to joining Cassidy and Galway in 1996, Hendrick was a general partner with Avalon Ventures, a San Diego-based venture capital firm, from 1987 to 1996.
In addition, Hendrick co-founded and served on the investment committee of Innova Capital (formerly Poland Partners), a Warsaw-based private equity fund, from April 1994 to May 2012. Hendrick is a CPA and graduated cum laude from McMurry University in 1973 with a Bachelor of Business Administration in Accounting.