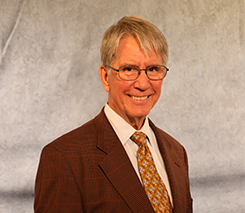 Retired Educator
Dallas, Texas
Board Member: 2018 to present
Mike Bennett '65 graduated from Abilene High School in 1961 and from McMurry University in 1965 majoring in English and speech communication.
After McMurry, he earned his master's degree in education and English from Abilene Christian University, followed by his doctorate in education from Texas Tech University with emphasis on curriculum and instruction with minor in English.
Bennett dedicated 52 years to educating students in a variety of capacities. He began his career at Wylie Independent School District in 1965 as a middle school English teacher, coach, bus driver and high school one-act play coach. From 1968-2005, he served in Lubbock Independent School District (LISD), including positions as Mackenzie Junior High assistant principal and principal, LISD director of school public relations, and principal of Monterey High School. In 2005, Bennett became headmaster of All Saints Episcopal School in Lubbock. He retired from that position in 2017. He also taught undergraduate and graduate courses at Texas Tech and Wayland Baptist universities.
Bennett was honored to serve as president of the Texas School Public Relations Association. He received the Honorary Lone Star Degree from Texas Future Farmers of America. Bennett received honors as distinguished supervisor/administrator at the State level. Metropolitan Lubbock Rotary Club recognized Bennett with the W. H. Tinney Ethics Award. Upon retirement from headmaster of All Saints Episcopal School, Bennett was honored with naming of the "Bennett Academic Center" at All Saints Episcopal High School.
Bennett is married to Sharon Wells Bennett '67. They have three children, Jeff, Mark (deceased), Whitney, and six grandchildren. Sharon is retired from Texas Tech University as Assistant Vice-Chancellor for Institutional Advancement. Seven members of the extended Bennett family hold degrees from McMurry. Sharon's father, Gaston Wells from Dumas, Texas, served on the board at McMurry. Mike's father, Dr. Gordon Bennett, was the seventh president of McMurry. The Bennetts are members of University Park UMC in Dallas, Texas.