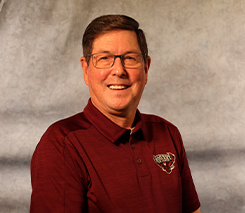 Area Representative, TMF (formerly Texas Methodist Foundation)
Fort Worth, Texas
Board Member: 2013 to present
Civic and Volunteer Activities:
Perkins School of Theology Executive Board
Rev. Richard Edwards was born in Plainview in 1951, raised in Tulia where he was a member of First UMC, and graduated from Tulia High School in 1969. After receiving a bachelor's degree in Music Education from Texas Tech University in 1973, he attended Perkins School of Theology at SMU graduating with a Master of Theology in 1978. Before retiring June 2016, after 41 years in the Northwest Texas Conference. Edwards served churches at Booker, Olton, Muleshoe, Dumas, and St. Luke's in Midland. He served the last eight years as the Lubbock District Superintendent.
Edwards has served on numerous conference committees/boards and responsibilities including the Conference Council on Finance and Administration, the Board of Ordained Ministry (chairperson of the continuing education committee and treasurer), the Conference Committee on Insurance, the Conference Board of Higher Education (two years as chairperson), the Conference Board of Finance and Administration, and the Conference Board of Pensions and Health Benefits. In addition, he has served as chairperson for the Conference Committee on Worship, served on the Conference Ministry Team, the Bishop's Dream Team, the Conference Committee on Nominations, the Bold New Directions Incubator. He has also held positions within district offices, as alternate delegate to General Conference, and a delegate to Jurisdictional Conference.
Edwards is married to Jo Beth and they currently reside in Fort Worth where they are active members of Keller United Methodist Church. They are parents of three children — Chris '99, an orthodontist in Fort Worth, his wife, Alison and children, Turner and Lena; Kevin, a computer software developer in Fort Worth, his wife, Sally and sons, Derrick and Nolan; and Kimberly '09, a middle school teacher in the Wylie I.S.D (Abilene), her husband, Josh Poorman '09 and children, Carter, Miles, and Stella.