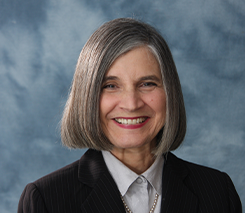 President, McMurry University
Abilene, Texas
University President
Board Member: 2013 to present
Civic and Volunteer Activities:
United Methodist University Senate
Educational and Institutional Insurance Administrators, Inc. Board – Chair
Abilene Chamber of Commerce Board
Abilene Industrial Foundation Board
Abilene Convention Center Hotel Development Corporation,
Board of Directors – Vice President
Historic Paramount Theater Board of Directors
Dr. Sandra S. Harper, a native of Dallas, Texas, began serving as the president of McMurry University on October 1, 2013. Prior to her McMurry appointment, Harper served as the president of Our Lady of the Lake College in Baton Rouge, Louisiana from 2006 to 2013 and as the provost and vice president for academic affairs and professor of communication at Texas A&M University-Corpus Christi from 1998 to 2006. Harper's other administrative posts included serving as the vice president for academic affairs at Oklahoma City University and as the dean of the College of Arts and Sciences at McMurry. Harper served as a faculty member in the communication and theatre department at McMurry from 1985 to 1995.
Harper received her Bachelor of Science from Texas Tech University and her Master of Science and Doctor of Philosophy from the University of North Texas. Harper also completed the Harvard Management Development Program and the Governor's Executive Development Program at the LBJ School of Public Affairs at The University of Texas at Austin.
In 2011, Harper was named a Distinguished Alumna by the Texas Tech University College of Education. In 2020, she received the Carol Luthman Meritorious Service Award from the Southern Association of College and Schools Commission on Colleges. She is listed in Who's Who in America, Who's Who of American Women, and Who's Who in American Education. Harper has received the Management Excellence Award from the Society for the Advancement of Management, the Y Women in Careers Award from the Corpus Christi YWCA, the Outstanding Faculty Award and the Outstanding Administrator Award from McMurry University, the American Association of University Women Abilene Branch Women of Outstanding Achievement, and the Women of Power and Purpose Award from the Regional Victim Crisis Center.
She is married to Dave Harper, who coached at Abilene High School for nine years and other high schools in Texas, Oklahoma, and Louisiana. The couple has two sons, who spent most of their childhood in Abilene. Justin Harper, a lieutenant colonel in the United States Army, his wife, and four children, is stationed in Norfolk, Virginia. Jonathan Harper works for the City of Commerce, Texas, where he lives with his wife and sons.