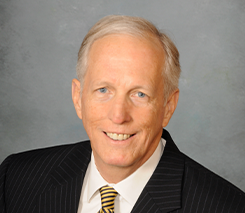 Retired AT&T Director
Boerne, Texas
Immediate Past Chair, Board of Trustees
Board Member: 2015 to present
Steve Sundby '75 is a retired AT&T executive having started his career in 1979 as a management trainee. He held numerous positions in Network Planning and Corporate Real Estate where he ultimately managed a portfolio of plant and equipment assets valued in excess of $5 billion. Sundby was also instrumental in creating a real estate brokerage and development subsidiary for SBC Communications in which he managed diverse assets such as golf courses, hotels, and office buildings. In his tenure he oversaw projects and personnel in 18 states and four foreign countries.
Sundby holds a Bachelor of Business Administration in Economics from McMurry University, a Master of Public Administration from Texas Tech University, and has completed additional post graduate work in Engineering Economics at Iowa State University. He has been a Texas Real Estate broker for over 35 years and holds the CCIM board certification.
In addition to his career with AT&T, Sundby has been actively involved in many civic and religious organizations in San Antonio and throughout Texas. He is a member of the McMurry
University Board of Trustees and the immediate past board chair. He has been a board member and/or chair of the Central Texas CoreNet Chapter and the San Antonio Downtown Alliance.
Sundby and his wife of 45 years, Bonnie, live on a ranch in the Texas Hill Country where he enjoys working outdoors. They have two sons and one grandchild.