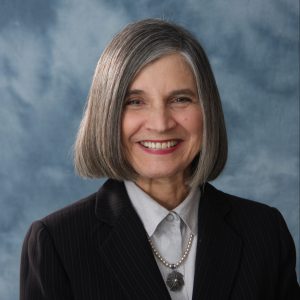 (Abilene, TX – December 15, 2020) McMurry University President Sandra S. Harper, PhD, has been awarded the 2020 Carol A. Luthman Meritorious Service Award by the Southern Association of Colleges and Schools Commission on Colleges (SACSCOC). The annual awards honor outstanding service to the SACSCOC, including volunteerism, leadership and commitment to the principles of accreditation. Harper has supported and served SACSCOC as a member of the board of trustees, as well as serving on and as chair of numerous committees for more than 20 years. The award was announced at the SACSCOC Annual Meeting on Dec. 7, 2020. Harper is the only 2020 award winner from Texas.
Upon receiving the Luthman Service Award Harper shared, "Working our hearts out to improve education in America is a noble mission. I appreciate this honor and would like to thank all of my colleagues in Abilene, Baton Rouge, and Corpus Christi as well as those at SACSCOC, who are dedicated to continuously enhancing higher education through our accreditation efforts."
The Carol A. Luthman Meritorious Service Award is named for a former staff member who served the Commission for more than 30 years and was also staff liaison to the SACSCOC board of trustees. Awards are presented to individuals whose volunteerism and commitment to the best principles of the academy and of accreditation personify the ideals of the Commission. Luthman Service Award winners have demonstrated extraordinary commitment to the accreditation processes in various volunteer capacities, and they are respected by their peers for their integrity and the meritorious quality of their service over a sustained period of time. SACSCOC names no more than five Luthman Service Award winners annually.
SACSCOC is the nation's largest accrediting body that accredits approximately 800 institutions. SACSCOC is the recognized regional accrediting body in the 11 U.S. Southern states (Alabama, Florida, Georgia, Kentucky, Louisiana, Mississippi, North Carolina, South Carolina, Tennessee, Texas and Virginia) and in Latin America for those institutions of higher education that award associate, baccalaureate, master's or doctoral degrees.
Dr. Sandra S. Harper, a native of Dallas, has served as the president of McMurry University since her appointment in 2013. Other administrative posts include the following: president of Our Lady of the Lake College in Baton Rouge, Louisiana, from 2006-2013; provost and vice president for academic affairs at Texas A&M University-Corpus Christi from 1998-2006; vice president for academic affairs at Oklahoma City University from 1995-1998; and dean of the College of Arts and Sciences at McMurry University from 1990-1995. Harper also serves on the Abilene Chamber of Commerce; Abilene Industrial Foundation board of directors; Educational and Institutional Insurance Administrators, Inc. board of directors as chair-elect;  North American Association of Methodist Schools, Colleges and Universities board of trustees; and the University Senate of The United Methodist Church. She currently chairs the Texas United Methodist College Association.