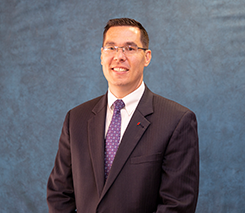 Executive Vice President of Commerical Banking
First Financial Bank
Eastland, Texas
First Vice Chair
Chair, Trusteeship Committee
Board Member: 2019 to present
Civic and Volunteer Activities:
Hendrick Medical Center Foundation
Eastland Community Foundation
First United Methodist Church (Numerous Positions)
David Bailey '04 is the Executive Vice President of Commercial Banking for First Financial Bank. He received his B.B.A. in Business Finance from McMurry University in 2004 and later graduated from the Southwestern Graduate School of Banking at Southern Methodist University in 2014.
He began his career with First Financial Bank in Abilene as a part-time teller while attending college. Over his 19-year career with the bank, he has worked in multiple positions in multiple regions throughout the company, spending 12-years in Eastland prior to moving to Abilene, where he has worked since 2020. In his role as head of Commercial Banking, Bailey is responsible for the overall growth of commercial loans and commercial deposits across the entire Texas footprint of First Financial Bank. In addition to this role, Bailey is also the co-chairman of the company-wide Service Improvement Team, which focuses on improving the overall customer experience and service quality for the entire First Financial organization.
In addition to his career, Bailey has been an active community member having served on numerous boards in various leadership positions. His true passion, however, is in church music ministry – which is evidenced by his service to the First United Methodist Church of Eastland, where he volunteered as the Music Ministry Director for 11 years.
Bailey and his wife, Ashley, are '04 graduates of McMurry. His parents, one brother, and sisters-in-law are also McMurry graduates (father, Frank '78; mother, Shelley '78; brother, Weldon '01; sister-in- law, Leah '02; and sister-in-law, Holly '04). In total, 13 of Bailey's family members have attended McMurry, including family through marriage.
Bailey and his wife met at McMurry, having both grown up in small West Texas communities and being raised in the United Methodist Church. They have two children: a son, Hudson, and a daughter, Hadley.